I thought while this is fresh in my mind I would write down the things I am doing in preparation for Open Studios with both Art Trails and Art at the Source. Never mind for the moment why I wanted to do this, which I will address in a future separate blog article. The point is: you yourself may have aspirations of doing an event like this so I think you should go into it with your eyes wide open. IT IS WORK! and in these posts I will not be covering all the tiny details that are obvious. Since there are way to many, I decided to divide them up into briefer individual posts that chronicle my steps for preparation. So here we go:
Part 1. First a bit of my history: I had been doing open studios at "Art at the Source"from 2013-2017 and now again in 2020 but because of their rules I had to relocate into west Sonoma county and show at another artist's studio outside under a tent! [check out how hard this is by clicking this link: SETUP_LINK . with Michelle Hoting]
NEWS FLASH: Art at the Source has extended it's boundaries to include Santa Rosa, Petaluma, Cotati and Rohnert Park. So I can now have my open studio in my studio (which is also my home)!
I have also participated in Art Trails from 2018-2020. My first year at Art Trails was the first time I open my actual studio to the public. So it's off the design the display area within my home to provide as much space as possible but not totally impact life as I know it. So I've included designs I have planned and how I intend to light the artwork and photographs to show progress made. If your artwork is 3D, you can certainly get by with curtains instead of panels and then then add pedestals.
repairing damaged frames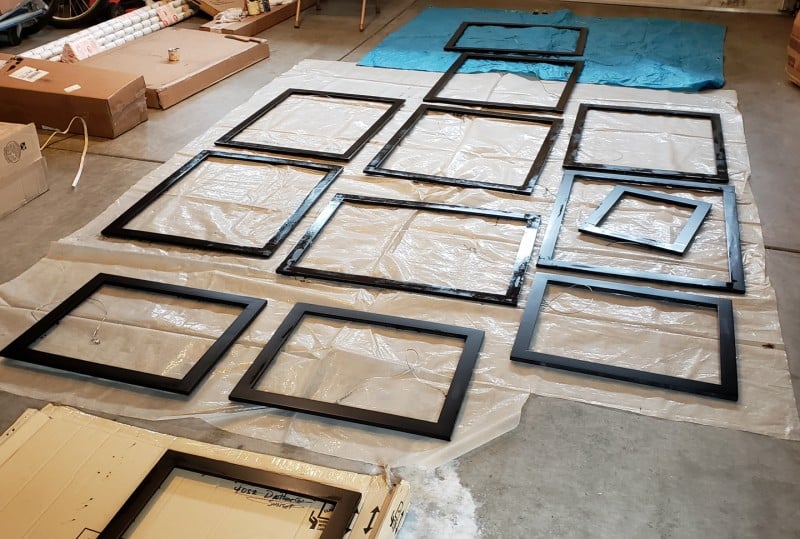 I will be writing further Blog entries detailing the many, many tiny steps that must not be forgotten. I write this as much for you the reader as for me. I'll finish with a checklist.
Followup Articles can be found here:
Part 2 is a link to "the financial side of things. "
Part 3 is "Publicity before the weekend."