Part 1 was Intro.
Part 2 was the financial side of things.

To get the word out so that more people come and visit you, you need to begin accumulating a mailing list and an email list. I will be discussing the publicity you do the day the weekend starts but these are things you must do in advance.
You likely will need business cards! I designed my own and had them printed. They are inexpensive and you will want to carry these even if you're not doing an open studios event. I also make sure that they come with every sleeved or framed print I sell.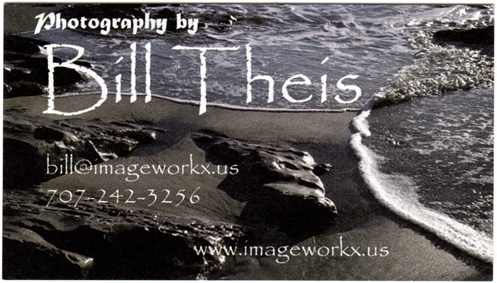 Start a website with your work like ImageWorkx. You may or may not attempt to sell from it. Before the pandemic, I didn't since there is so much competition out there and you have to be very active. That made me change my mind and now it is a simple eCommerce site with a NextGen WordPress theme. Regardless, it's a great place to show work that may entice a visitor to come whereas in preview exhibits they see only a single piece. Allow people to sign up for your mailing or email list.
Postcards to your mailing list that should arrive just about the time the collector's guide does. Here's what mine looks like in 2019 for Art Trails. There are services that will print the postcard and send them out to your uploaded visitor list, charge you bulk postage and eliminate bad addresses thereby saving you money. You never ever touch the postcard. This is both good and bad: it is less work but I usually write something by hand on those headed to people who previously purchased artwork from me. Front is above, Back below: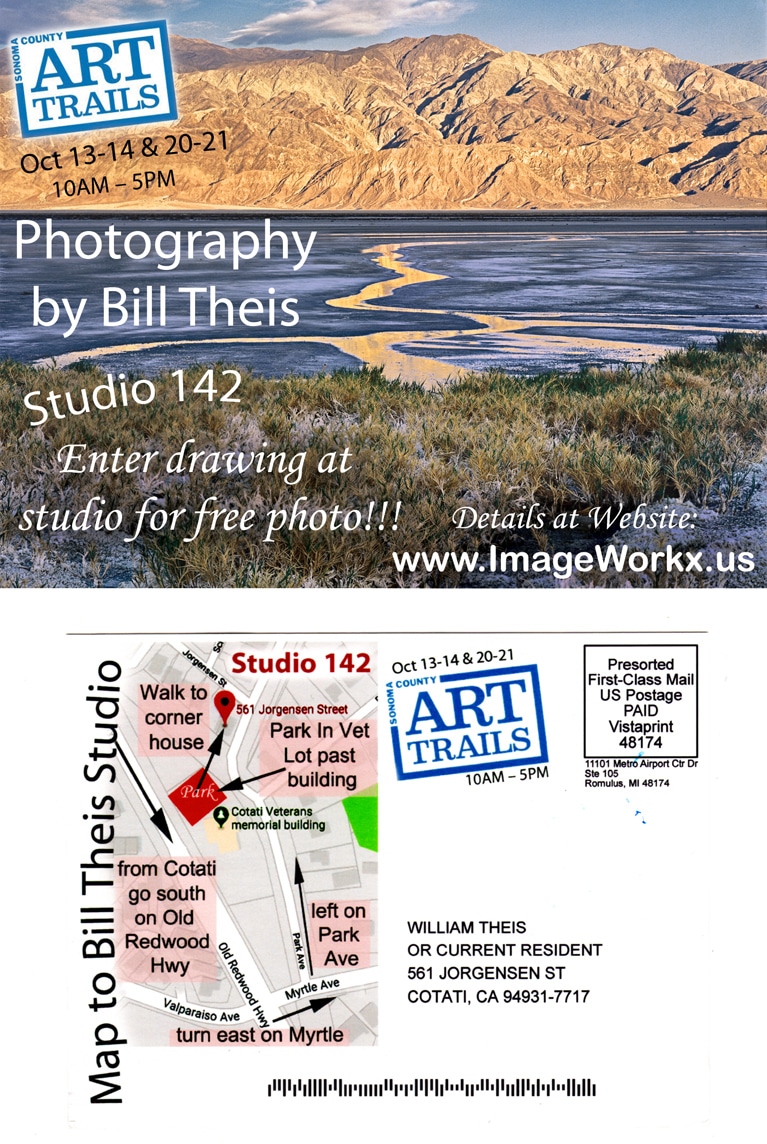 For Art Trails you provide your list to mail Collectors' Guide (a.k.a. "Catalogue" for Art @ the Source and other venues). Art Trails in 2018 have distributed or mailed almost 55,000 of them! However there are soft copies for you to download along with Google maps to the studios. <LINK TO COLLECTOR'S GUIDE>
Do a couple of email blasts. One early to "save the date" and later on to remind visitors as the time grows short. Here's a <LINK> to my first "save the date" email. Have a look and feel free to copy the text and ideas for your own email blast. About 1/3 of my mailing list opened the email and that makes me happy.
You should be participating in as many preview exhibits as possible. Go there and have fun! Bring any friends you know that are free that evening. Meet people and discuss your art or the weather. Just make contact. Examples of the fun you can have are <HERE> at one of the openings.
Have something for an interested person to take with them. Postcards or rack cards can be put in certain locations like some of the preview exhibits. Rack cards have enough room to put a map to help guide a visitor and have your website and some contact information in case they have questions. To the left is the front, to the right is the back: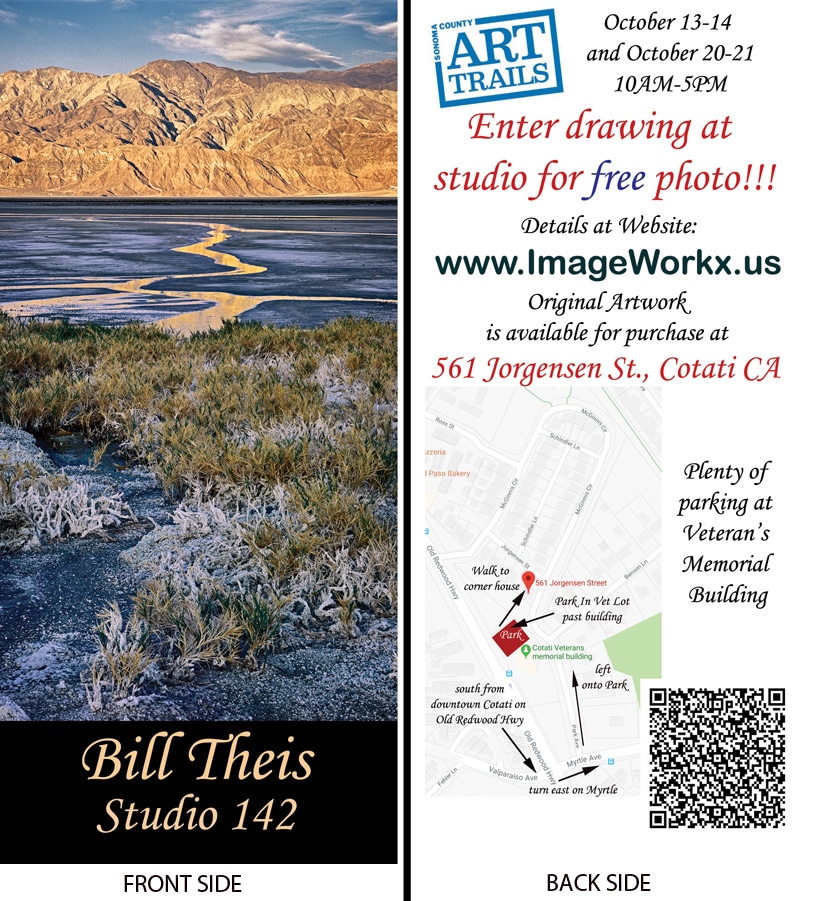 So how did I get a large email and mailing list? Frequently you can't get many people to sign up at the website or during previous open studio visits so I did a print giveaway! Basically you offer a drawing on condition that you get the visitors' contact information. I use a free Jotform you can easily make that I can have the visitor enter things like email mistake free, plus I don't have to read their handwriting! I set up a laptop for this during the open studios. If you need information on Jotform, please tell me or put in a comment below and I will blog how it is done.
Here is my "fine print" for the print giveaway:
Rules: Drawing is for an artist-selected 11×14 original photograph mounted in conservation archival matte. Winner is responsible to either pick up or pay shipping & handling. Framed at extra cost with artist's frame or for a 10% service charge with customer-supplied frame. Must respond to notification within 10 calendar days or drawing will be redone. Photograph's full credit may be used only for an upgrade to larger photo of winner's choice. Winner will be notified within 10 days after the second weekend. Only one entry per person per day. Name and email required.
I've begun this Blog, something that I should have done a long, long time ago. I have lost track of what pieces have been juried into exhibitions, which were displayed for open studios, etc. I really don't want to show anything in the same venue twice but my memory of what was and was not is not clear. Blog entries would give me a pictorial history of these events, openings, exhibitions. As I dig up things I will be going back in time to enter more of my artist "history".
Then there is social media where you tell everyone what is happening at your studio to encourage interest. Make them part of the experience and they are more inclined to come. So I mostly do Facebook posts and a few Instagram, which are more Smartphone intensive. However, be aware there is a plug-in for Google Chrome that lets you upload any image you want instead of having to have it come from your phone. I considered other suggested social media sites and may do them in future years. Send me a friend request! Be sure to take advantage of any resources like this video describing Art Trails <LINK>
lots of other options… this year I am trying something on a lark: monographed pens! They're like a business card that writes and also doubles as a phone/tablet stylus. This puts my contact info into a visitor's hand and likely they will keep this pen when they would otherwise throw away a business card. You can also take out advertisement space in the newspaper or the collector's guide. Drop by for your own pen!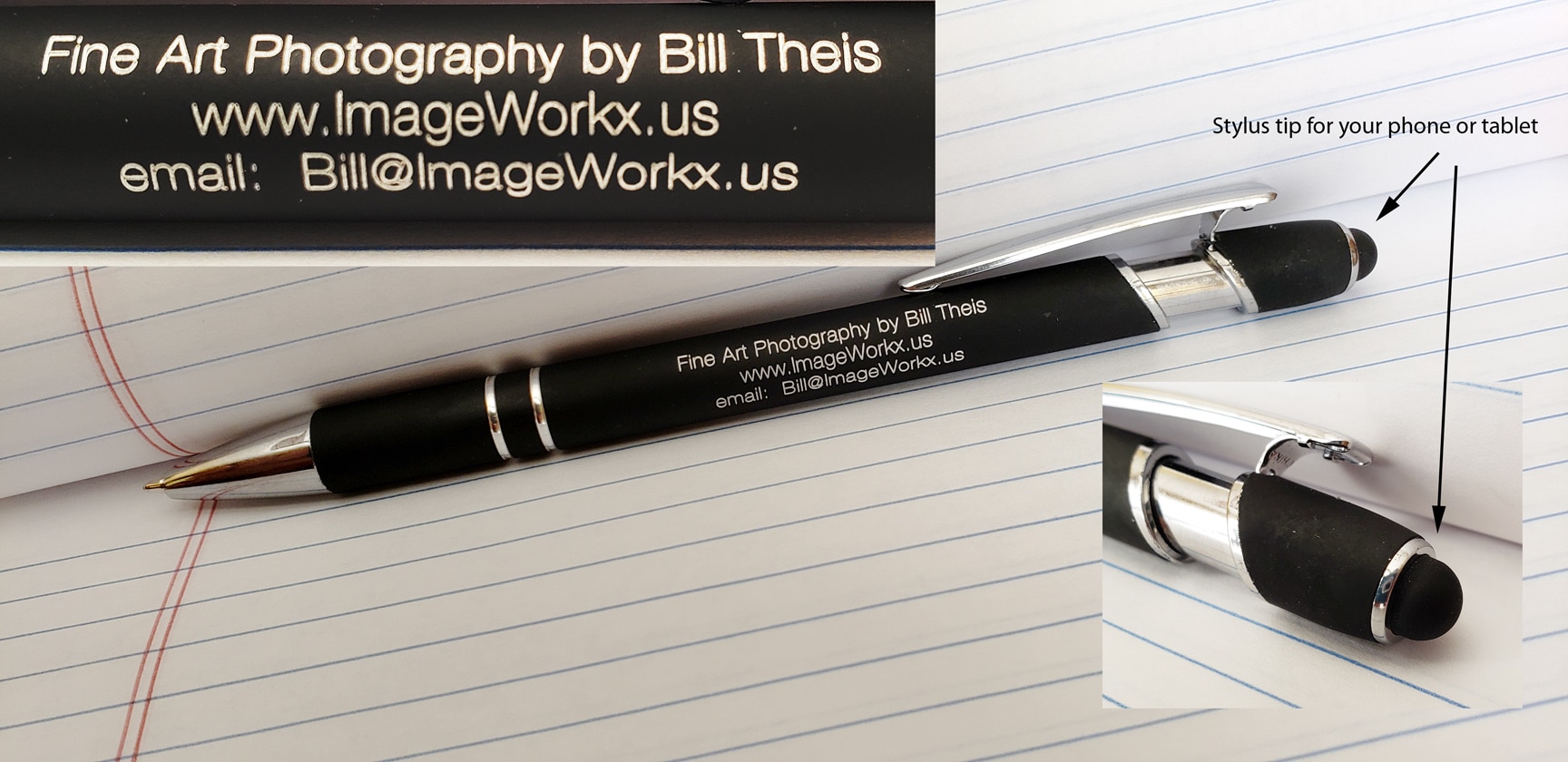 There are marketing workshops that cover this and much more available to artists as part of Art Trails. They want you to have the resources, be profession and above all be successful. They offer artists classes and a 21 page reference! So many, many more things that I have listed here.
#socoarttrails20